Out With the Old, In With the New
Why and how could replacing your old wood retaining walls be easier than you think? Our team at CornerStone Wall Solutions have answers for all your wooden retaining wall replacement questions. Is your old retaining wall leaning over,  threatening to become a liability or simply the eyesore of the neighborhood? Then now is the time to add beauty and functionality to your exterior landscape. Modular block retaining walls are easy to install (check out our step-by-step installation videos here) and once installed properly, can last a lifetime. 
When Do You Need to Replace Your Old Wood Retaining Walls? 
Safety hazards. There are many reasons to replace an old wooden retaining wall, but this is clearly a must once the wall is a hazard to yourself or others.  How can you be sure they are hazardous? Frist, there are typically visual cues like boards splitting apart, grass growing between the joints, soil falling out, or rotten wood that can be picked away with your hands. There may even be a negative lean on the wall. This means when you look at it sideways, it's leaning too far over – one heavy rainfall could cause it to collapse. 
Looks are important. The other reason is purely for looks. Some of the old, failing timber walls are just plain ugly and need to be replaced. This will also increase the value of your property, since curb appeal has a huge impact on home sales. More importantly, it will increase your appreciation and enjoyment of your outdoor space.
Reasons to Not Use Treated Timber Retaining Walls
Healthy walls, healthy property. Unfortunately, treated timber wood may have cancer causing carcinogens from the manufacturing process. It's a known fact that the preservatives used to make them last a long time have cancer causing agents in the process, therefore touching them can be hazardous. Not to mention, that can only have negative impacts for the environment and your health. 
Wood walls tend to rot overtime. The main culprit of any retaining wall failure is nearly always water and wood retaining walls are no different. Water soaks into the wood and starts to deteriorate and rot out from the back. Knowing this, you may not be able to tell when the wall is starting to fail. 
Treated timber can be difficult to work with. It may sound simple and obvious, but these blocks of wood can be extremely heavy and cumbersome. Lifting some of the beams could even take machinery or heavy equipment in order to properly install them. Don't let yourself be fooled by the light and fluffy wood look! It's been treated and is often water-logged and heavy by the time installation begins.
Why Use Concrete Interlocking Wall Blocks? 
Long-lasting strength. The top reason to use interlocking concrete block walls is that they last a long, long time! It's concrete, and if properly manufactured, could last a lifetime. The average design life of a SRW (segmental retaining wall) systems is 75 years. Needless to say, that's far longer than the average 4.5 years that people stay in their homes. 
They can be reused.  That's right, these blocks can be taken apart, cleaned up and reused again. It's a practical choice for those people who aim to be cost-efficient. Concrete blocks can be used for several purposes, since they can be curved, turned and stepped very easily for optimal functionality. 
Concrete interlocking retaining walls look great.  With most suppliers, distributors and manufacturers, you can choose from different colors, styles and sizes of retaining wall blocks. Check with your local producer for where to buy and ask for samples that match what you are trying to achieve for your outdoor space.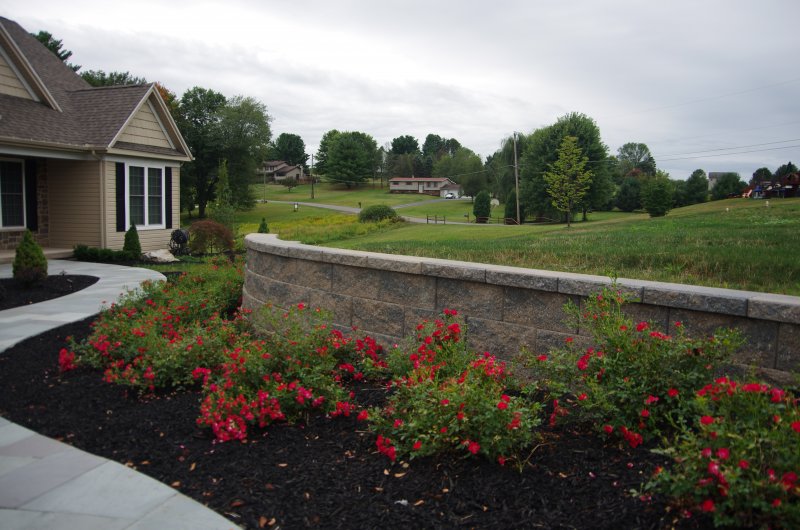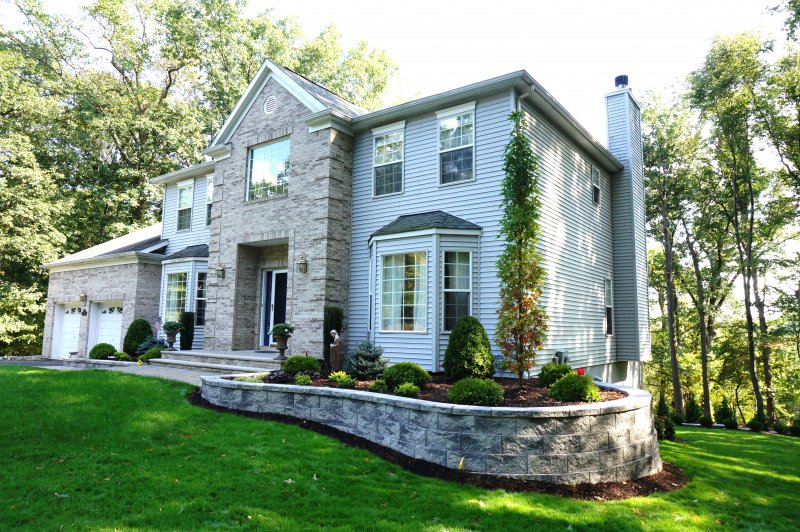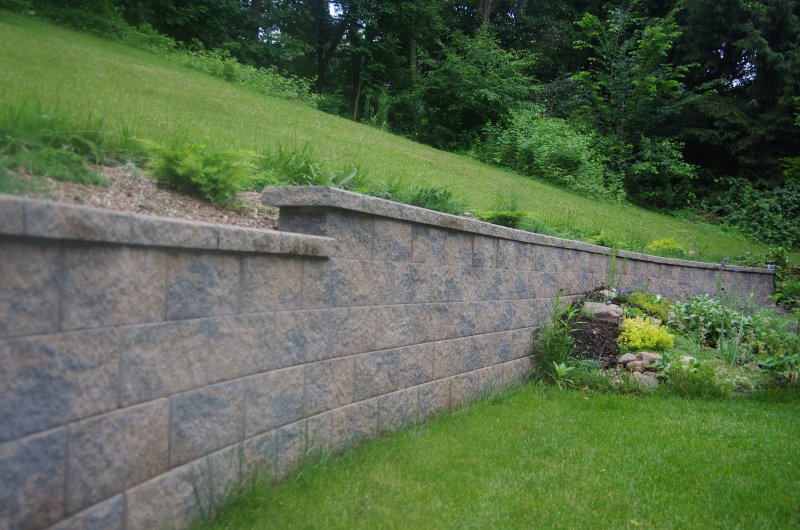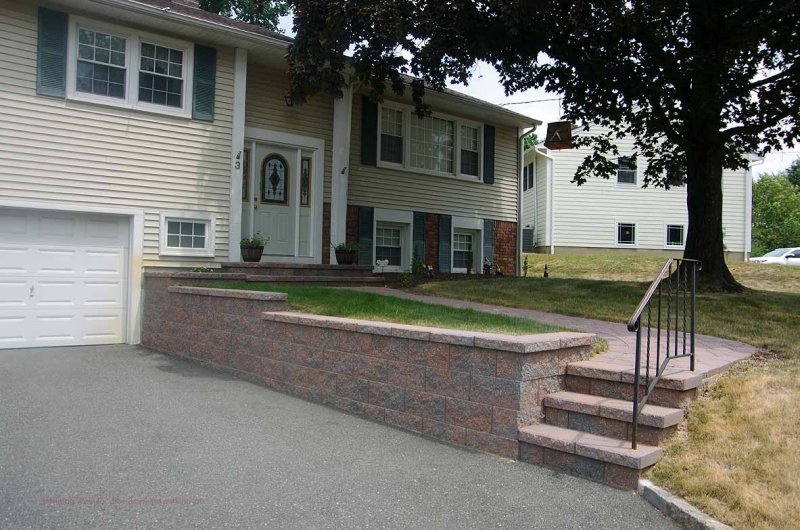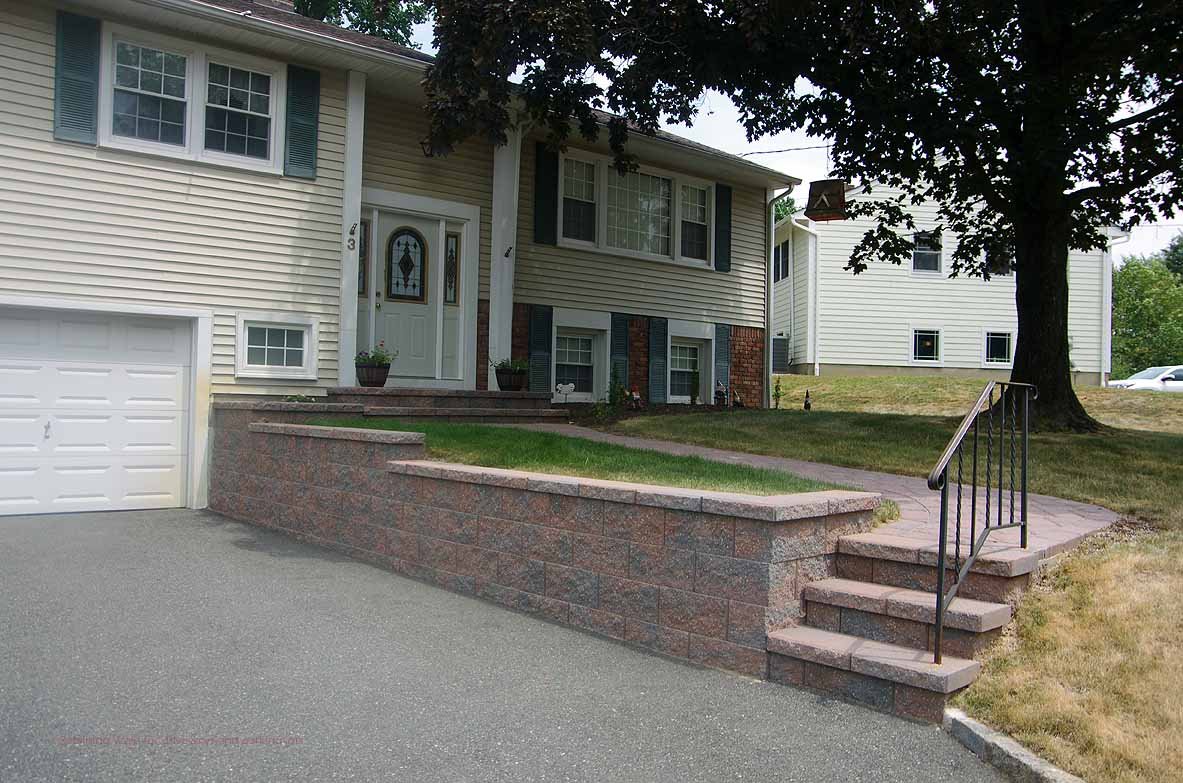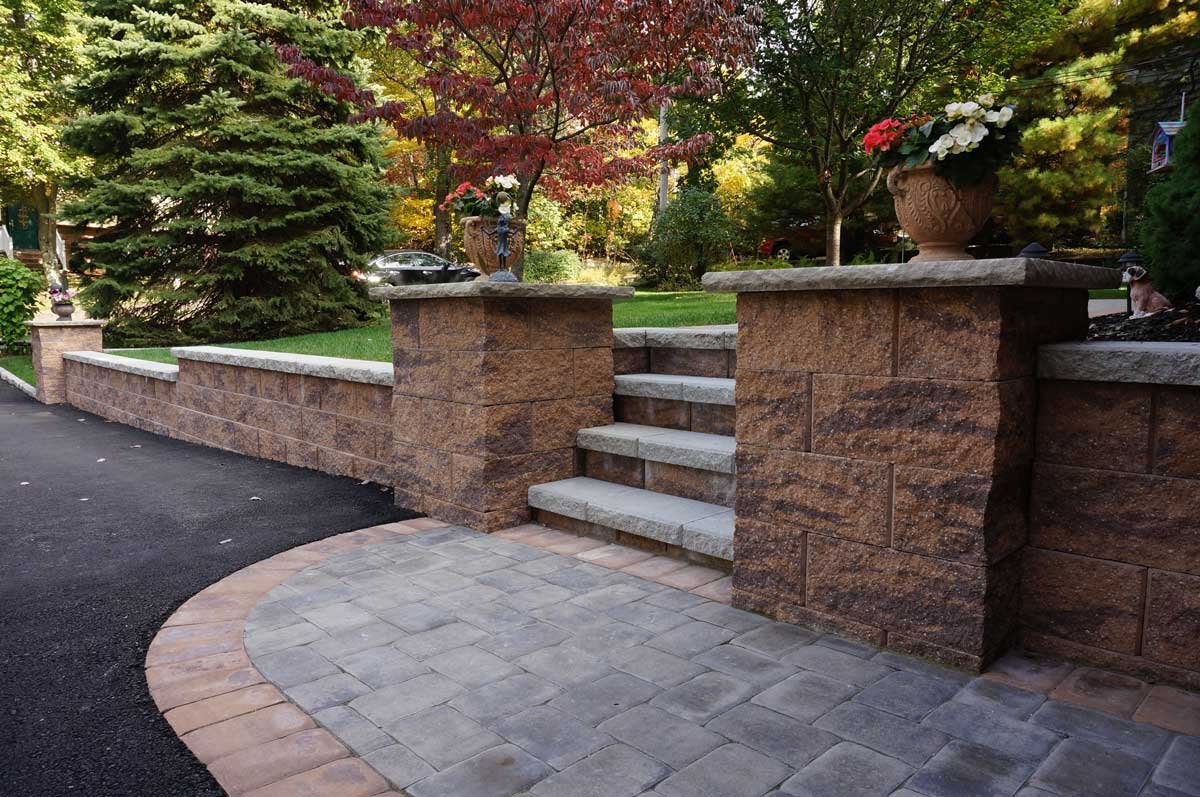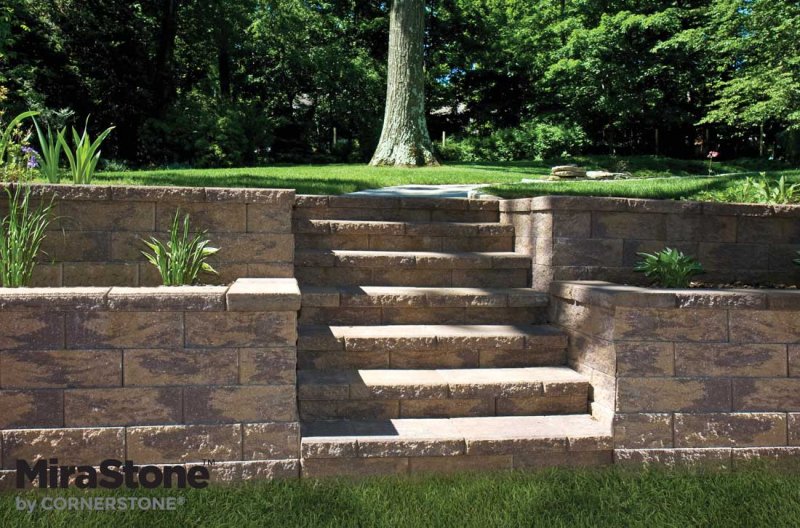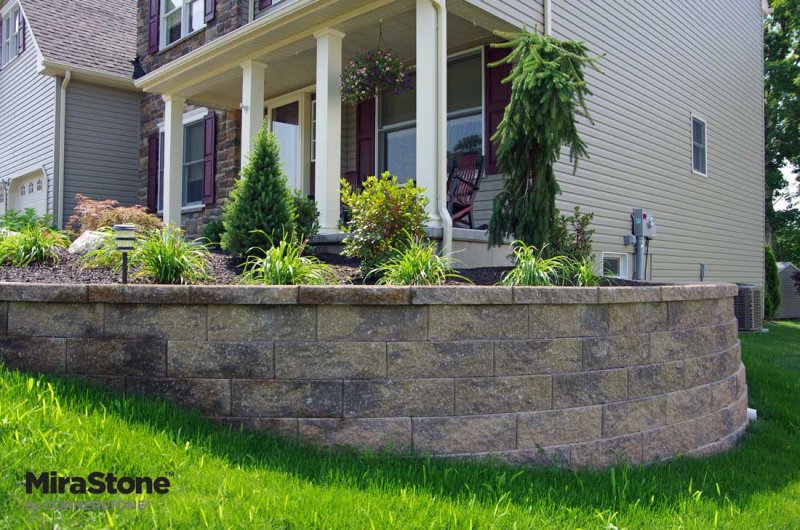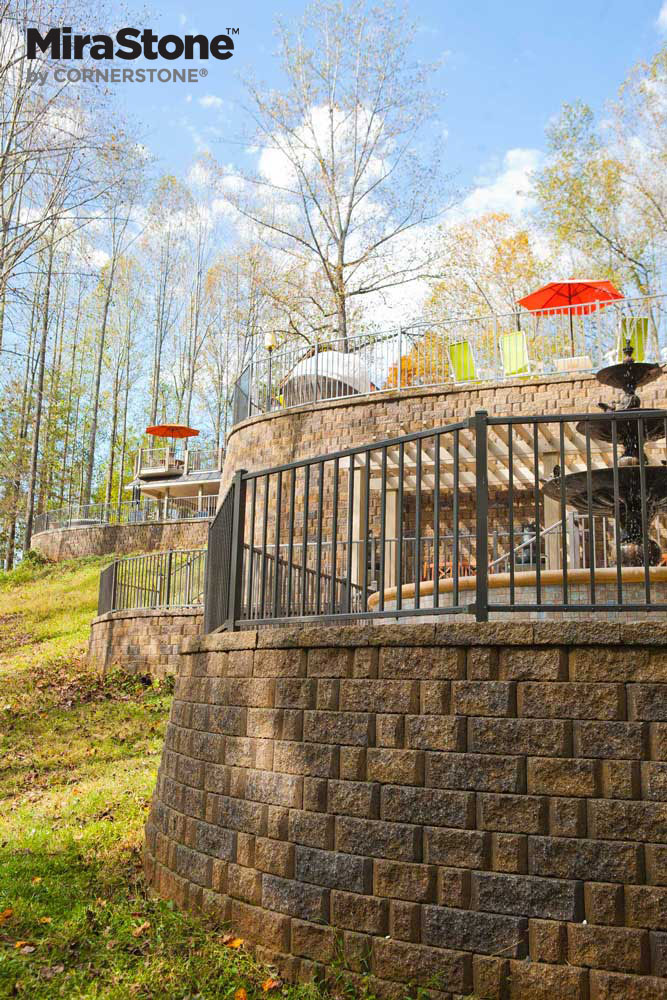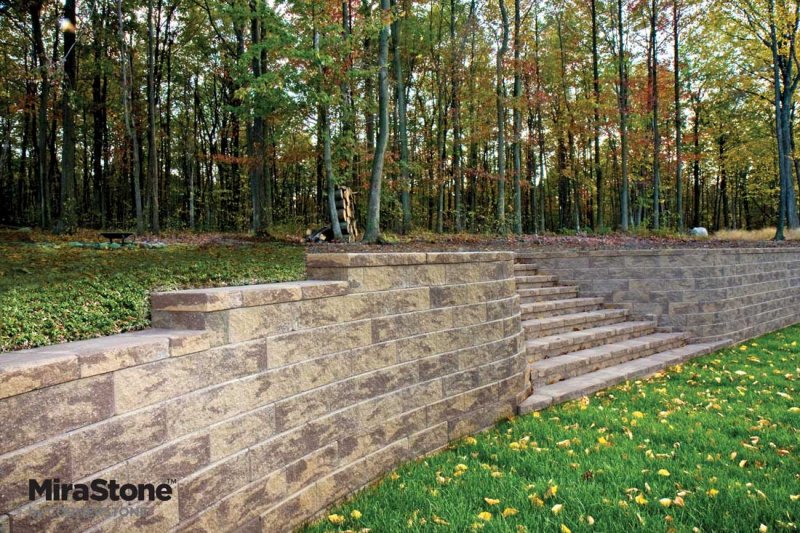 Do It Yourself or Hire a Professional 
CornerStone Wall Solutions has all the tools to help you build and replace your old wood retaining wall. Although we have plenty of resources, we do strongly recommend you take the time and learn the best installation practices. But wait, we can help with that too! Have a look at our CornerStone installation videos and how-to guides see if this project is one you can tackle yourself. 
Using our free CornerStone Retaining Wall Design & Analysis Software, you can easily have an engineer do the design for you without a problem. We also have a free online estimation tool that can help you determine how many blocks you need, or how much and how long your geogrids need to be. This is an estimate only, of course.
Concerned about drainage? Most of our block systems have drainage channels built-in. This makes adding the correct amount of drainage gravel a breeze and will keep water out and away from any retaining wall system, saving you major repair costs in the process.
Interested in getting pricing for replacing old wood retaining walls? 
Interested in getting pricing from a professional contractor?