While CornerStone® products were initially developed with the installer in mind, they were designed to allow for visually beautiful retaining walls that withstand the test of time. Truly unique in design, CornerStone®'s products utilize a hollow core innovation to enhance both the strength of the wall units and the aesthetics of the end product. Our hollow core:
Allows for versatility in projects from residential retaining walls to large commercial projects

Brings economical benefits due to less cement required

Is lightweight for easy installation without the use of special equipment

Units have a random split face to resemble weathered rock for a unique look, while complementing any design or style of construction
Attractive, sound, and environmentally friendly, CornerStone®'s hollow core products are perfect for your client's designs.
CornerStone Wall Designer
You have a design you need to complete, try our CornerStone Wall Designer software. Utilize this software to easily produce designs using CornerStone® products and specs.
The CornerStone Wall Designer was designed with the engineer in mind. Including multiple methodologies, CornerStone products, and geogrid reinforcement options, you have access to a variety of scenarios to design your project in. Powerful and easy to use, this program saves you time and money in the design process!
Retaining Walls Maximize Housing Development at Penn State University Location State College, PA, USA Total CornerStone Retaining Wall Blocks 28,500 sq. ft. (2,647 sq. m) Owner Toll Brothers CornerStone Manufacturer York Building Products Installers Scott's Landscaping, Inc.  [...]

CornerStone Case Study – Tall Retaining Wall at Plaza Centro Location Lancaster, PA, USA Total CornerStone Retaining Wall Blocks 12,800 sq. ft. (1,190 sq. m) Owner Spanish American Civic Association (SACA) Installers Pickering Valley Landscape, Inc. CornerStone Manufacturer Yo [...]

Location Frederick, MD, USA Total CornerStone Retaining Wall Blocks 6,288 sq. ft. (584 sq. m.) CornerStone Manufacturer York Building Products Wall Engineer Scott A. Miller Consulting Engineer Civil Engineer Harris-Smariga Architect GTM Architects Installers Botanica Enter [...]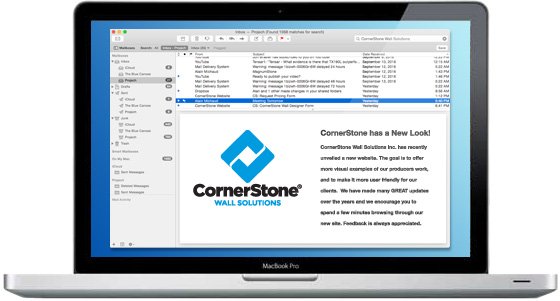 Build Your Knowledge
Gain free insight to industry-leading expertise, resources and design ideas with CornerStone's monthly Retaining Knowledge newsletter!