As a Producer, you'll receive:

U
ltimately, becoming a CornerStone® producer is about focusing on the two major E's of the industry: Environment and Economics.
Environment: With the cement industry producing 5% of the world's carbon footprint, CornerStone® is dedicated to reducing its impact as much as possible. As such, our designs are focused on developing solid systems, while minimizing the amount of concrete required for each product.
Our most significant design feature is our hollow core, helping to reduce these environmental impacts right from the manufacturing stage. Using 10 – 15% less cement than comparable products, production of the CornerStone® products reduces CO2 emissions and pollution for our producers. In addition, a lighter individual unit weight means easier transportation and less fuel costs, less equipment (if any) required for installation, and quicker installation itself.
Economics: Because of the environmental focus in the design, you benefit from an economic standpoint. As a producer, you will see a reduction in manufacturing, transportation, material and labor costs due to the product design.
Energy Used
Solid Concrete System
100%
Days of Construction
Concrete yd3
Graph is based on a 5000 square foot retaining wall project.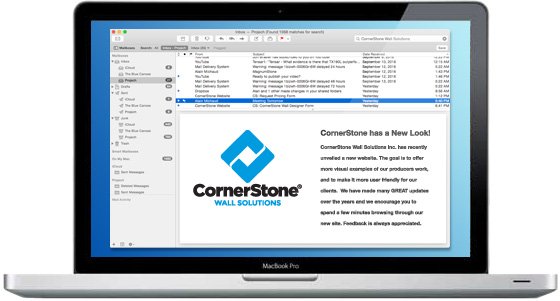 Build Your Knowledge
Gain free insight to industry-leading expertise, resources and design ideas with CornerStone's monthly Retaining Knowledge newsletter!