D
eveloped as a result of the transportation industry requiring a higher safety factor and positive connection, the CornerStone® Positive does just that. For installations that require retaining walls with superior strength, such as highways, DOT (department of transportation) and railway embankments, or critical water applications and earthquake prone regions, the CornerStone® Positive brings security and flexibility.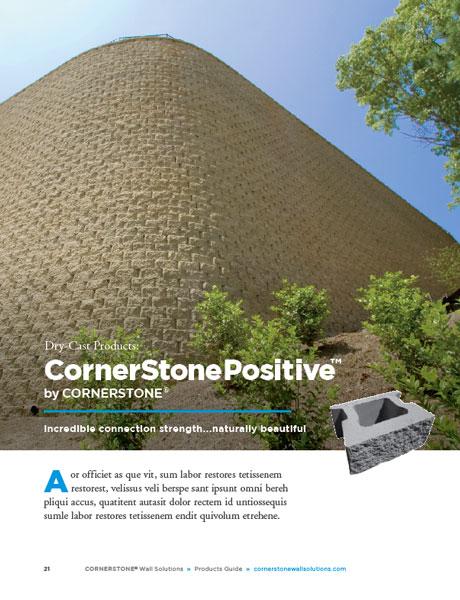 Literature
Used to ensure stable retaining wall structures, learn more about how you can put your CornerStone® Positive product to work for you. See All
CAD Details
For unit specifications and technical details, review and download our CAD drawings to help in your design process. See All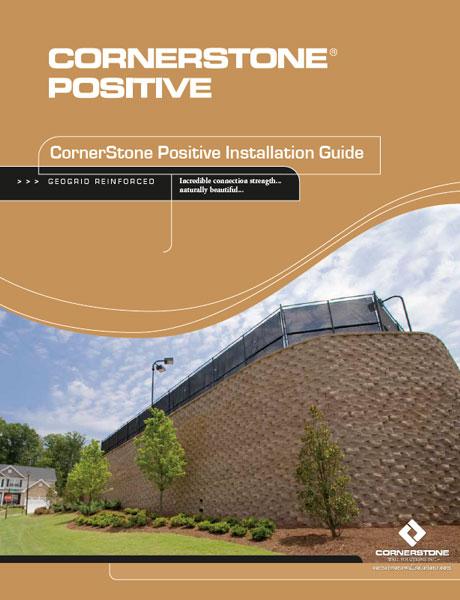 Installation
Easy to install, look at our installation guide for step-by-step instructions on how to create your CornerStone® Positive retaining wall system. See All

Geosynthetic Connecting System
Each cornerstone positive connector is wrapped with geosynthetic, which interacts with three units to create a unique triangle interlock. significantly increasing the connection pullout strength of the geosynthetics and gives the wall incredible structural strength.
Best of all, CornerStone® Positive may reduce the geosynthetic strength and number of layers required in then wall, saving the installer time and money. The CornerStone® Positive connectors are only required on courses where geosynthetics are used.
Environmental Benefits
We're about creating beautiful things simply, and that means ensuring that our natural surroundings are also cared for. With less concrete required for manufacturing, and more efficiency in transportation, we ensure that we leave a smaller carbon footprint.
Economic
Using less concrete, costs significantly drop due to less weight (lowers freight & shipping costs), less required installers, lower development costs, without any loss in structural stability!
Flexible Design & Solutions
The high strength CornerStone® Positive connectors are flexible and easy to install when building concave or convex curved walls.
Whether the design is simple or complex, a CornerStone® Positive wall will retain its strength while flexing under seismic loading or other stress condition. CornerStone® Positive's durable, high shear strength connectors along with its SecureLugs allow for significant lateral movement without losing the interlock. The tapered sides with its removable wings make it easy to build tight curves and straight walls with complete accuracy.
Hollow Core
The unique hollow core design, reduces efflorescence problems & costly pigments. In addition, the weight ranges from approximately 65 – 75 lbs, allowing for minimal manpower and no special equipment to install the product.
Stylized Aesthetics
With a face that typically resembles weathered rock, the unit shape and size are balanced to provide a natural profile that complements virtually any design or style of construction. Colors and available faces will depend on your market area. Please contact you local producer.