Are you looking to add a touch of beauty and functionality to your outdoor space? Then consider investing in a planter retaining wall! Planter retaining walls offer an ideal way to spruce up any backyards or space. This can be done by adding accessible raised gardens, shrubs, greenery, or a water feature. Not only do they provide visual appeal but are also simple enough for DIYers or professionals alike to install.
CornerStone Wall Solutions has the perfect selection of segmented retaining walls (SRW) products. These products can help you create the perfect look for your property – from modern designs to more simplistic features. You have a lot of options to choose from for your retaining wall project, including:
Get inspired by our planter retaining wall ideas below.
The Benefits of Adding a Planter Retaining Wall to Your Garden or Outdoor Space
Increased Property Value
Adding a planter retaining wall to your outdoor space can make a significant improvement in the value of your property. Studies have found that landscaping features, such as retaining walls, can add up to 12.7% of value to a home's market worth. A well-designed planter retaining wall can be used to enhance the overall look and feel of your home. As a result, it becomes more attractive to potential buyers.
Enhanced Aesthetics
Planter retaining walls can be used to enhance the aesthetics of any outdoor space. Not only do they add visual interest and depth to an area, but they also help to create more usable space. By adding a raised flower bed or shrubbery, homeowners can better utilize their yards for entertaining and relaxing. This wall idea can be especially useful for those with limited outdoor space.
Improved Drainage and Soil Conservation
Adding a planter retaining wall to your landscape can improve drainage and soil health. The walls are designed to help manage water runoff. This allows for better absorption of moisture into the soil and preventing flooding or pooling of water. Additionally, the design of retaining walls helps to keep soil from eroding or washing away due to heavy rains.
Reduced Soil Erosion and Protection from the Elements
Adding a planter retaining wall to your property is an excellent way to safeguard it against the elements. The wall structure helps to reduce erosion caused by rain and wind, which can damage soils and plants alike. Also, the raised garden beds created by the retaining walls offer more protection from strong winds. It helps to keep shrubs and trees safe from dangerous gusts.
Versatility in Design and Color Options
Planter retaining walls are versatile in design and color. They offer endless possibilities for homeowners to create the perfect outdoor space. From symmetrical to irregular, small to large – customizing your desired aesthetic is effortless. Depending on your home's landscape and architecture, you can choose materials to add the perfect touch of color and texture.
Simple Installation for DIYers or Professionals
Installing a planter retaining wall is a simple process for both DIYers and professionals alike. For DIYers, it usually involves digging out a trench for the foundation and then stacking wall blocks or stones to create the wall. In some cases, mortar may be used to hold the pieces together tightly. This type of installation can be completed in a day or two. For professionals, the installation process is more complicated. Depending on the complexity of the project, professional installation may involve heavy machinery. It may also need extra labor to ensure everything is installed correctly.
Planter Retaining Wall Ideas to Get You Started
1. Horizontal Retaining Wall with Planters
Horizontal retaining walls with planters are an excellent way to add dimension and texture to your landscape. These types of walls allow homeowners to divide their property into distinct sections. They also provide a functional space for planting flowers, shrubs, and trees. The walls are typically constructed from natural stone blocks or slabs. It adds an aesthetically pleasing look to any outdoor area.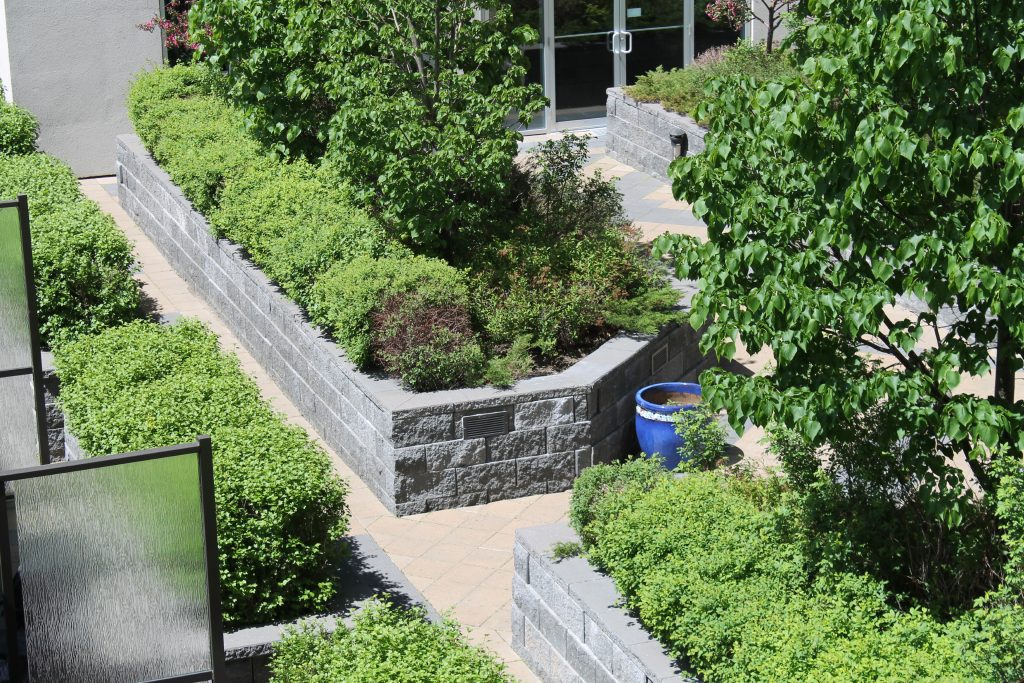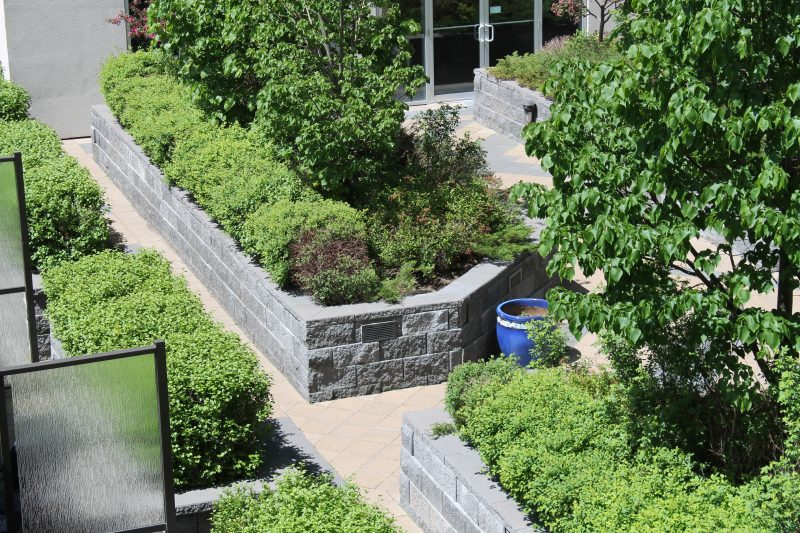 2. Planter Wall with Raised Patio
Transform your outdoor retreat into an urban oasis with a planter wall and raised patio! This blend of structural components provides both visual appeal and tactile diversity. This wall idea also serves as a practical area for socializing or relaxing. With the help of potted plants, you can easily inject charm into any dull backyard within moments. Build that dream garden now – it's easier than ever before.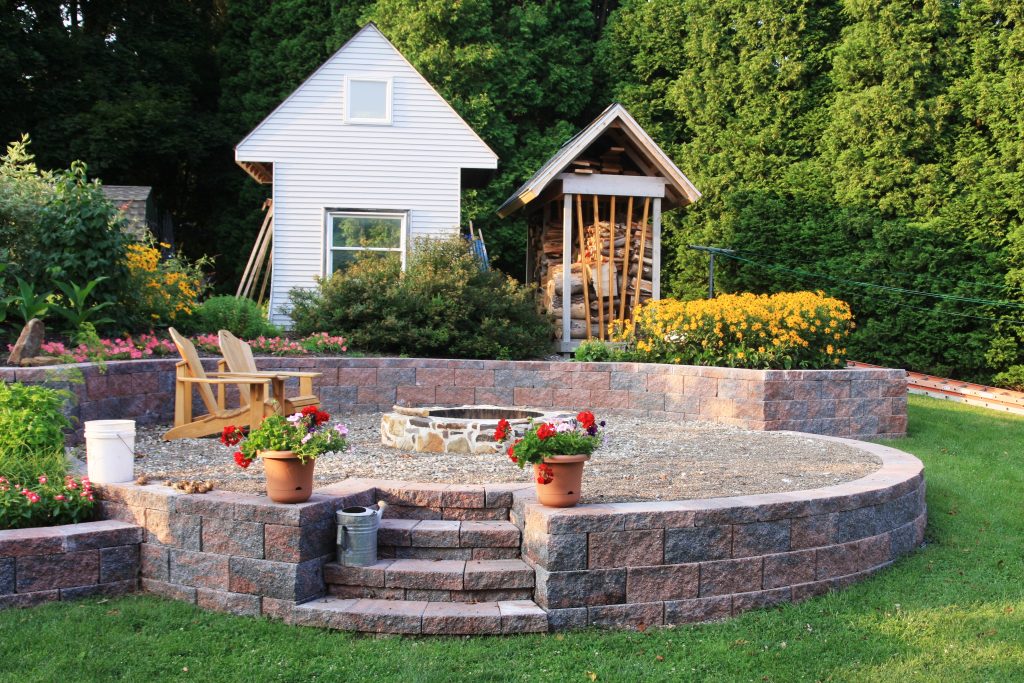 3. Raised Beds on a Sloped Yard with Tiered Walls
Raised beds with terraced walls are great for making the most of your garden's usable space while also adding texture and character. Tiered walls with several tiers of terraces help facilitate efficient water drainage. They can also act as a natural wind barrier, helping to keep shrubs and trees safe from damaging gusts.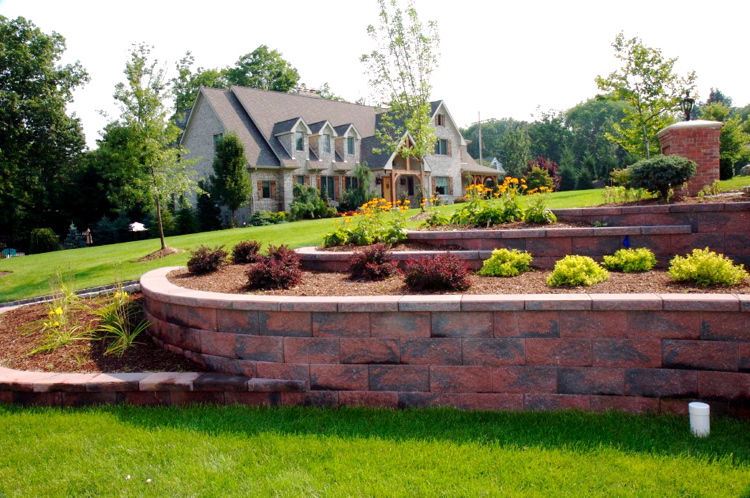 4. Concrete Planter Retaining Wall with Pillars
For a truly eye-catching and chic outdoor area, planter retaining walls with ornamental pillars are a perfect choice! Pillars can be used to separate segments of the wall, creating an eye-catching design feature. The addition of pillars also contributes to structural stability. It provides support for the wall while allowing for flexibility in design. Depending on your desired aesthetic, you can choose from a variety of materials – brick, concrete, stone, or wood – to create your unique look.
5. Entryway Planter Retaining Wall
An entryway concrete planter retaining wall is the perfect way to make a stylish and lasting impression on your guests. This versatile design option allows for creative freedom. With this design, you can choose from a variety of wall materials and colors. You can also achieve an added level of charm by adding ornamental plants and shrubs around the wall.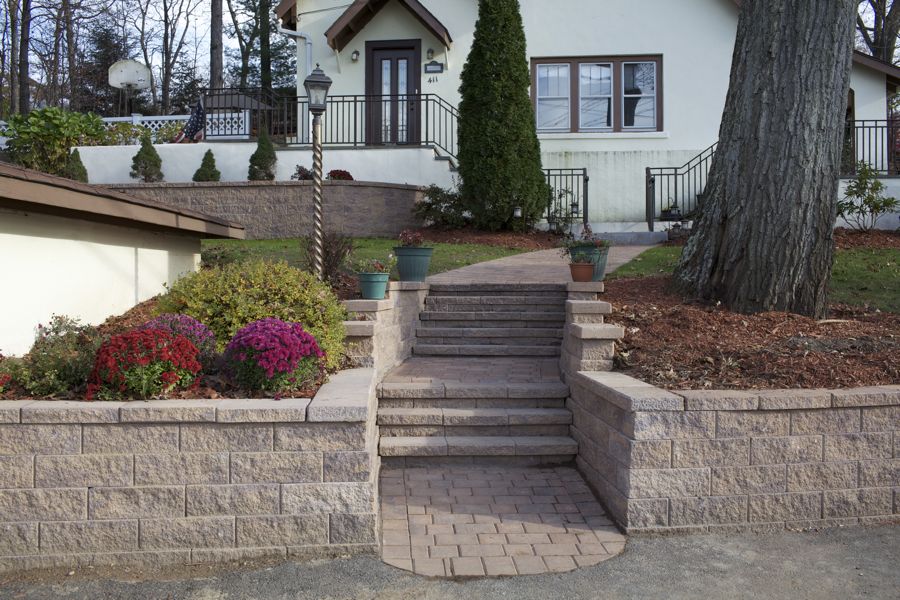 6. Combination of Interlocking Concrete Blocks and Stones
A combination of interlocking blocks and stones is an ideal way to create a retaining wall that is both durable and visually pleasing. Interlocking blocks are typically made from solid concrete and come in various shapes and sizes. The blocks fit together like a jigsaw puzzle. This creates a strong structure that can withstand heavy loads without shifting or cracking. Stones, on the other hand, can be used to fill in gaps and provide a more natural look. Lastly, this combination of stone and concrete provides excellent drainage capabilities. This concrete planter retaining wall ensures that any water that runs off will not cause pooling or erosion.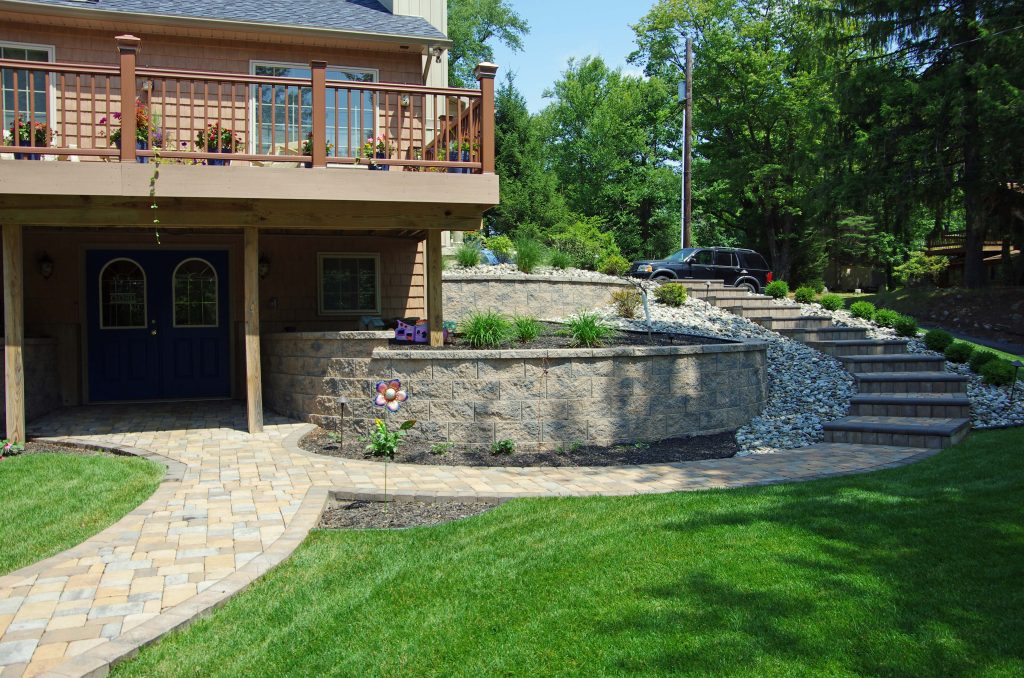 7. Curved or Semicircle Design for Unique Look
Give your garden or landscape an exclusive flair with a graceful curved or semicircle design. By using a variety of stones, bricks, or other materials to construct the wall, homeowners can customize the look of their outdoor space. Curved walls help to create a softer aesthetic and break up the straight lines of traditional retaining walls. Additionally, they provide superior stability, durability, and water-flow capabilities. Homeowners can also opt to have their walls face one side of the property or both sides, depending on their design preferences.
8. Combination of Horizontal and Multiple Semicircle Planter Retaining Walls
This concrete planter retaining walls is a great way to bring a unique, modern aesthetic to your landscape. It combines the sleek, linear look of horizontal walls and the gentle curves and shapes of semicircles for an eye-catching effect. Horizontal walls provide support for heavy loads and are perfect for supporting planters and plants. Multiple semicircles add texture and dimension to the design. This type of wall is also great for areas that experience heavy rainfall, as it provides superior drainage capabilities.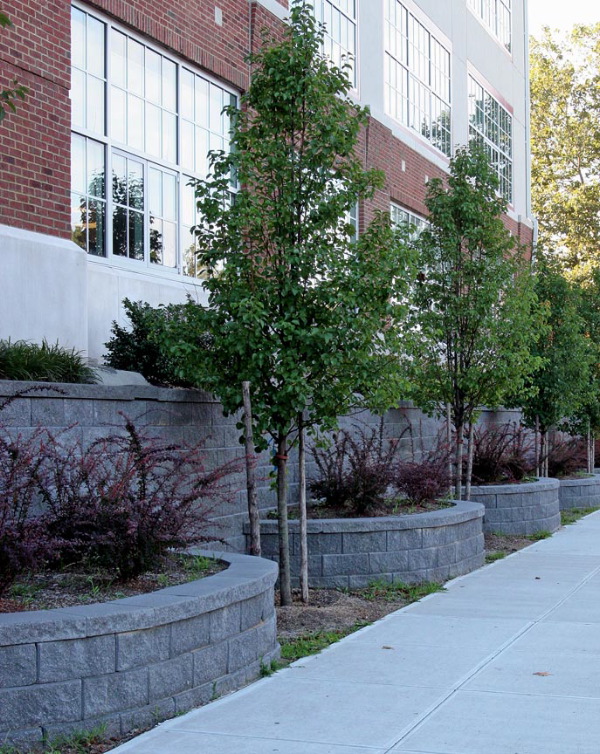 9. Stone Retaining Wall with a Space for a Barbecue
A stone retaining wall with a space for a barbecue is an excellent way to add both beauty and function to any outdoor area. Not only does this type of concrete planter wall provide superior protection from erosion. But it also offers homeowners the opportunity to create a custom outdoor cooking area that can be enjoyed all year round. By taking advantage of natural stones with different shapes and sizes, homeowners can create a unique look that suits their style. Also, this type of wall will provide adequate insulation to keep the area warm in the winter and cool during the summer months.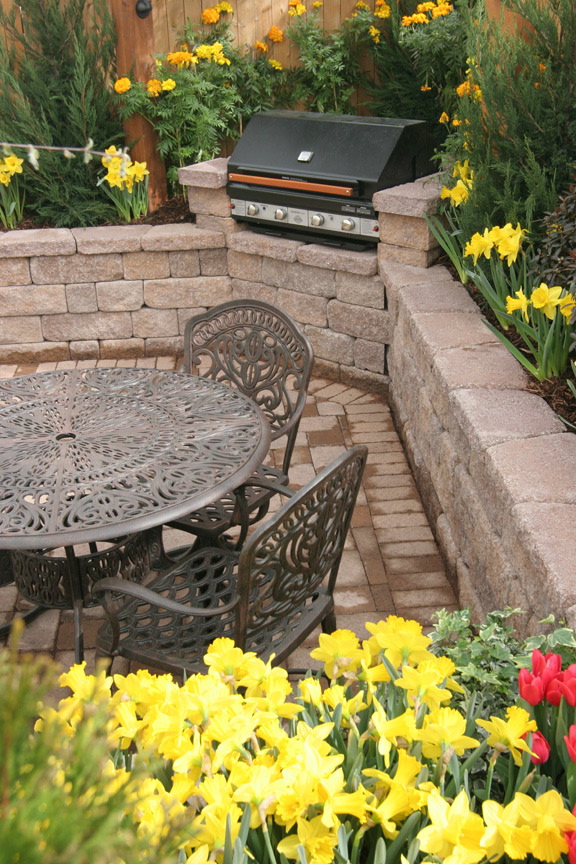 10. Poolside Concrete Planter Retaining Wall
Poolside planter walls are an ideal way to bring life and color to any backyard pool area. These walls provide a space for plants to grow without taking up too much of the pool area. They create an aesthetically pleasing landscape that is both natural and functional. Poolside concrete planter walls are typically constructed from bricks or stones with a variety of shapes and sizes. Homeowners also have the option to add waterproof planters or hangers to make their walls even more unique and versatile. Best of all, these walls can stay in place for many years with minimal maintenance, adding beauty and longevity to any backyard poolscape.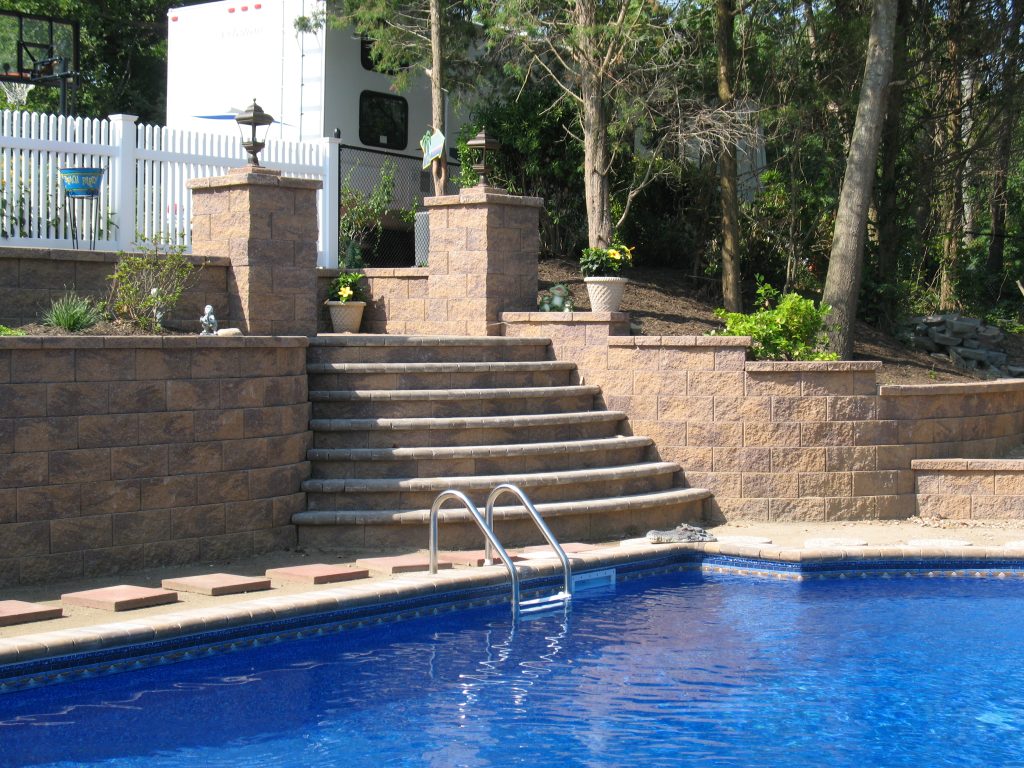 Conclusion
No matter what type of retaining wall you choose, it's important to consider the unique needs of your outdoor space. From curved and semicircle designs to stone and concrete walls, each style has its own unique advantages and aesthetic appeal. With the right combination of materials and design, anyone can create an outdoor space that is attractive and long-lasting.
If you're looking for more wall ideas to add life and pizzazz to your outdoor oasis, take a look at the gallery of concrete planter retaining walls below. These images showcase a variety of styles that homeowners can use to make their landscapes stand out from the rest. From small courtyard walls to dramatic curved designs, these walls offer visual appeal and function.
CornerStone Wall Solutions offers homeowners block retaining wall products, systems, and solutions. With a wide variety of materials and designs, you can create an attractive and reliable retaining wall that adds value to your home. Contact CornerStone Wall Solutions today to learn more about our products!